Enhanced Adhesive Synthetic Paper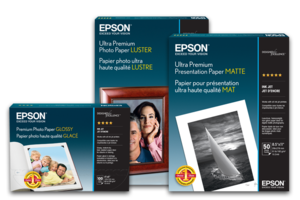 Adhesive Synthetic Paper is an ideal choice for signage that requires adhesive backing. An affordable, polypropylene-base media, it's thin, light, and very flexible with a durable, wet-strength base. It delivers accurate colours and vivid results on its high-quality matte surface. An instant-drying paper, it's excellent for indoor banners and outdoor signage. When laminated, it's perfect for outdoor signage applications as well. Best of all, its adhesive backing makes it possible to remove and reposition signage for easy mounting.
Paper Specifications:
Basis Weight: 135 gsm (total weight)
Thickness: 5 mil
ISO Brightness: 97%
Opacity: 93%
Base Material: Polypropylene
Adhesive Material : PET
Surface Finish: Matte
Core size: 2"
Spindle: 2" high tension
Profile Information
Supplied with Standard Epson Driver.
Thank you for your interest in Epson. To subscribe and receive promotional emails, please visit Epson Global to find your local site.
Our system shows that the email that you entered might be incorrect or undeliverable. Please confirm your email address is correct before continuing. Email should be a name@domain.com format with no space before or after.