Proofing Paper White Semimatte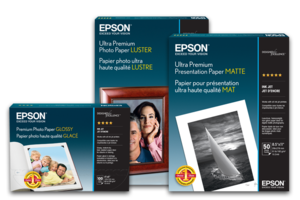 Designed with 10 mil naturally bright white base, Epson Proofing Paper White Semimatte is free of optical brighteners and ideally suited for proofing a wide variety of colour critical commercial offset printing applications most commonly used in high-end sheet-fed printed products such as brochures, collateral, book covers and posters. Coated with exacting standards, Proofing Paper White Semimatte is specifically optimized for proofing applications using Epson UltraChrome K3 ink and displays outstanding short term stability. Its weight, base tint, and wide colour gamut makes this the perfect choice for commercial proofing applications.
Paper Specifications:
Basis weight: 255 gsm
Thickness: 9.89 mil
ISO brightness: 90%
Opacity: 96%
Base material: Resin coated paper
Base colour: White
Surface finish: Semimatte
Core size: 3"
Spindle: 2"
Profile Information
Supplied with EFI Proofing Edition RIP, ColorBurst Edition RIP, and Graphic Arts Edition RIP.
Thank you for your interest in Epson. To subscribe and receive promotional emails, please visit Epson Global to find your local site.
Our system shows that the email that you entered might be incorrect or undeliverable. Please confirm your email address is correct before continuing. Email should be a name@domain.com format with no space before or after.