text.skipToContent
text.skipToNavigation
EcoTank ET-4760 All-in-One Cartridge-Free Supertank Printer - White
Zoom In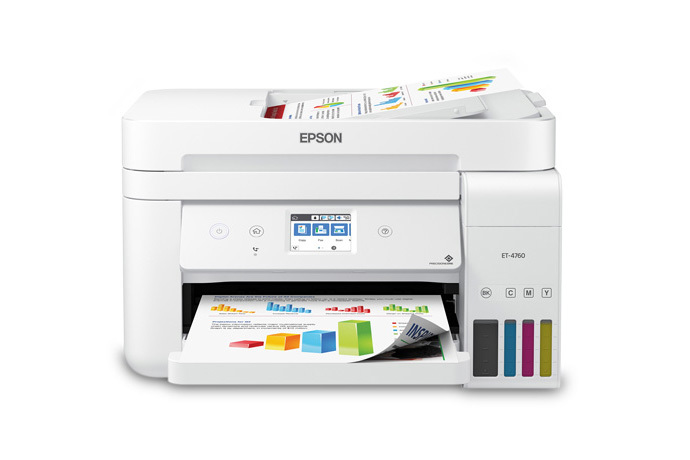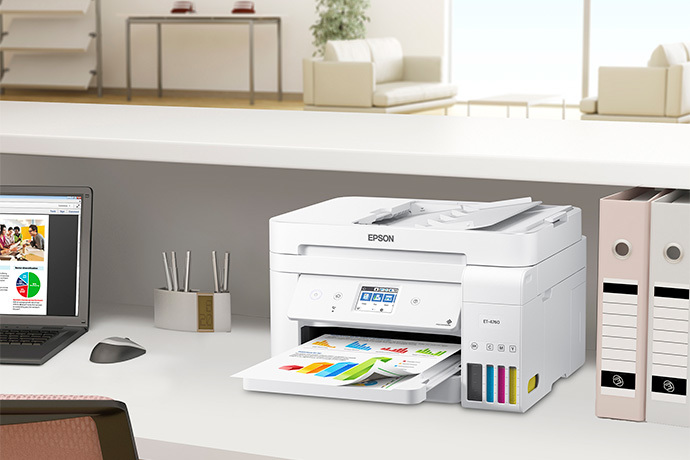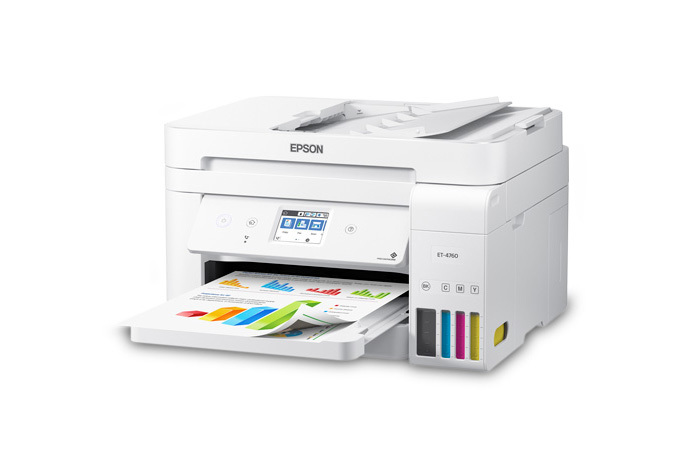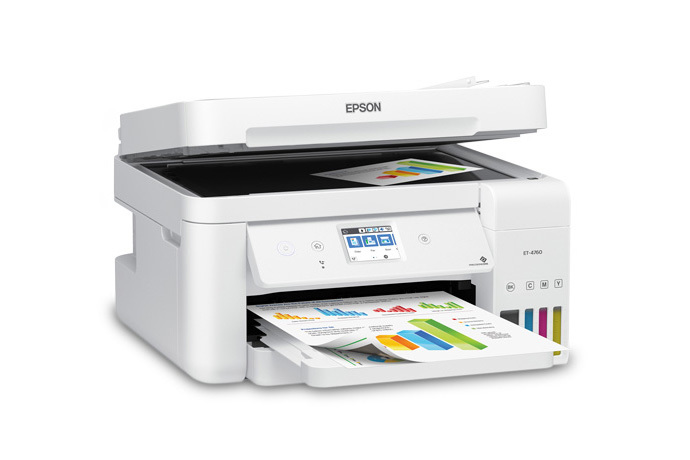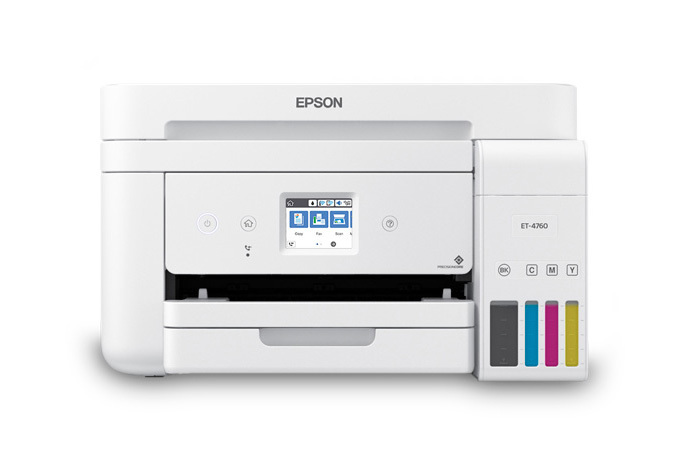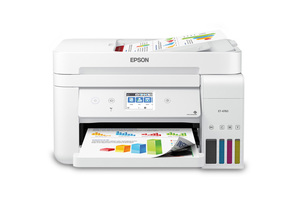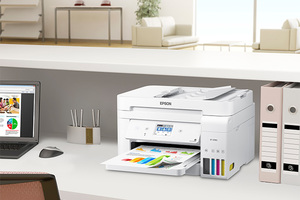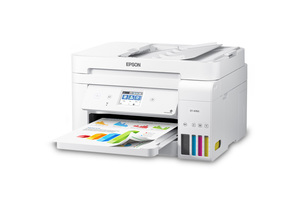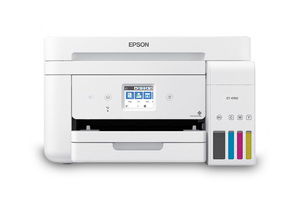 The fast, wireless, full-featured Cartridge-Free all-in-one with ADF and fax.
The EcoTank® ET-4760 offers Cartridge-Free Printing with easy-to-fill, supersized ink tanks. You can save up to 90 percent with low-cost replacement ink bottles1. Plus, you can get up to 2 years of ink with the included or replacement ink set2. Each replacement ink bottle set includes enough ink to print up to 7,500/6,000 pages (bk/clr)3 – equivalent to about 80 individual cartridges4. That means less waste. Uniquely keyed EcoFit™ bottles make it easy to fill each colour tank. Powered by PrecisionCore®, this fast supertank printer also offers a 250-sheet paper tray, 30-sheet ADF, 2.4" colour touchscreen, voice-activated printing5, and wired and wireless connectivity.
4-in-1 with ADF, Wireless & Ethernet: Print / Copy / Scan / Fax
Ink: Four EcoTank Ink Bottles
ISO Print Speed: Black: 15 ISO ppm†; Color: 8.0 ISO ppm†
Also available in Black

Model:

C11CG19204
After 17% savings:
$499.99
EcoTank ET-4760 All-in-One Cartridge-Free Supertank Printer - White
is rated out of
5
by
65
.
Rated

3

out of

5
by
Ejkdol
from
Very picky with paper.
I got a model that saves on ink alright. That's because the paper jams more often than usual before it gets to the print heads. .I'm almost to the point of returning this one and going back to a HP printer..
Date published: 2020-04-05
Rated

1

out of

5
by
KegBC
from
Cannot handle 2-sided originals -- big fail
While this printer can print double sided, it cannot handle 2-sided originals as input for copying, scanning nor faxing, despite what is written by some magazine reviewers. I contacted Epson Support and they confirmed this. As so many documents are double sided, this is a huge fail by Epson. Competitor printers do this at 20% of the price. As noted in other comments, that there is not a single, unified program or app to use when interacting with the printer is also a fail. There are multiple programs instead (e.g. 1 each for faxing, scanning or copying). Competitor interfaces are much simpler and easier to use. I'll be returning mine.
Date published: 2020-04-01
Rated

2

out of

5
by
DKramer
from
Poor print quality
I bought this in February 2020. It wasn't hard to set up, but I'm very disappointed in the print quality. The ink is somewhat watery and that's the effect you get on the paper. It prints very faded. For the cost, it should print better. Not the best value and I will not be purchasing this kind of printer again.
Date published: 2020-03-27
Rated

1

out of

5
by
D6ht
from
auto feed jams everytime
While this unit prints fine, it will not take a page through the auto feeder. We have tried different paper and that didn't help. 9 out of 10 times it jams on the first page. Almost everything I scan is multiple pages. This is the second one with the same problem. Only good for printing, not scanning.
Date published: 2020-03-25
Rated

4

out of

5
by
ChrisJ
from
Love this printer, BUT!
I bought this printer for my classroom and it is an absolute work horse and the ink lasts and lasts. In that regard I do not regret my purchase. HOWEVER, I actually returned the first one due to streaking and difficulty with the sheet feeder not pulling in the sheets and/or jamming for scanning and the power button being wonky and needing repeated pushes to turn on. My second printer has the same issues with the power button AND the same issue with the feeder. But I love the refillable ink aspect. I never have to debate printing.
Date published: 2020-02-28
Rated

5

out of

5
by
Gadget
from
Finally an ink printer that is affordable to use!
I have been a loyal laser printer person for years. I had black and white lasers that would print really cheap. I would have a colour inkjet that would cost me a set of cartridges every Christmas (finally realized it was cheaper to buy Hallmark cards). The cartridges would be dried out. I eventually purchased a fairly higher end colour laser printer. It was cheaper than 'ink' cartridges, but way more expensive than black and white laser. I also had large format solvent ink printers (64"), a large format thermal printer (52") and a large format ink jet printer (42") to ad to my printing background. For the price, the Epson supertank printer is an incredible value (no matter the model in my opinion). This unit is extremely affordable to print on. It comes with a full fill of ink (not a 'startup') and is good for thousands of pages. I purchased a replacement set of inks for $64.99 and hope they can be still be used when I finally will need them. The printer was very easy to set up and I can easily print from my Mac, iPad, and iPhone. I have also easily printed from an older Microsoft laptop. The unit has self feeding, does double sided printing, scans well and prints photographs on photo paper quite well. As a daily colour printer, it is fantastic.
Date published: 2020-02-26
Rated

5

out of

5
by
Pietro631
from
Excellent!
Print quality is excellent! Plus the amount of ink you get makes sure you can keep printing those excellent prints. The downsides to this printer is no duplex ADF and no multi-purpose tray. Other then that this is a great printer that prints at decent speed. I would rather have quality prints then fast poor quality prints. The text on the highest setting is on par with good laser printers. Normal print texts is better then most inkjets. Photos are nice, sharp and vibrant. Messing with the settings when printing photos can yield much different results which I like. Would definitely buy again.
Date published: 2020-02-23
Rated

4

out of

5
by
KSellers66
from
Goodbye WF-4740, Hello ET-4760. 12 Thoughts.
My day-of-purchase-and-setup thoughts: 1) Got a great price at a major office supply chain by catching it on sale and taking advantage of a printer trade-in credit. 2) The printer specialist at the store told me that the Epson Ecotank printers provide the highest print quality at a lower cost-of-ink than competing supertank printers from other brands they also sell. 3) I have never ditched a perfectly-good printer before, but at $125 for a set of ink refills every few months, the WF-4740's cost-of-printing is ridiculous. 4) The ET-4760's setup instructions are pretty good, but they have a major omission: get the serial number off the bottom of the printer BEFORE filling the tanks with ink. (If you do not do this, you can later print a "Configuration Status Sheet" that will tell you the serial number.) 5) Filling the ink tanks is both easy and completely non-messy. Don't be intimidated. 6) Each color of ink has a unique "key" that guarantees each color goes into the correct tank. 7) Kudos to Epson for including enough ink to top off each tank after initial setup drains about 1/8 of the ink each tank. 8) Print-head alignment is necessary to get the best quality prints. It's more involved than I expected. I strongly recommend using a magnifying glass and being picky. It took me about 20 minutes. 9) No driver CD is included, but finding drivers on Epson's website isn't difficult. I downloaded two packages, the printer driver and Epson Scan. Installation was easy and hitch-free. 10) I am more than satisfied with the quality of text and photos printed in High Quality mode. Standard-Vivid mode is also satisfactory. Even Standard mode is good enough for many purposes. 11) A test scan looked very good. 12) The warranty is 1 year if you don't register, 2 if you do. I'm not a fan of this requirement, nor do I understand why they need my phone number. I'm posting a screenshot of all the information they require.
Date published: 2020-02-19
Rated

2

out of

5
by
jngbialek
from
Great scan functions, but
I just purchased this machine to replace my Canon MX922 and I am seriously underwhelmed. The scan function works, the fax function works. The printer prints. Unfortunately there is no software that unifies all the functions. There is no way to manipulate the print function to improve the color. I have been trying to print some pictures and the color depth is awful and there is no way to ensure the photo is properly placed in the paper. Seriously, I don't need to print a ton of pictures but it's nice to pop out a photo or two - but the colors are muddy and inaccurate. Also, you have to completely remove all of your paper to place the photo paper. Boo. Seriously disappointing.
Date published: 2020-02-11
Rated

5

out of

5
by
MikeZ
from
Great Utility
Printing of pictures is true to color. The print time is fast, documents are great. Setup was easy and flawless.
Date published: 2020-02-04