SureColor S40600
$21,695
SRP
64‑Inch roll‑to‑roll printer with included auto take‑up reel
4‑colour Epson UltraChrome® GS3 solvent ink
Produce sellable quality banners at 215 ft2 per hourB
Create adhesive vinyl output at up to 170 ft2 per hourB
Fully loaded print solution including an ONYX® GamaPrint™ Pro RIP

SureColor S60600
$31,095
SRP
64‑Inch roll‑to‑roll printer with included auto take‑up reel
Dual 4‑colour Epson UltraChrome® GS3 solvent ink
Produce sellable quality banners at 550 ft2 per hourB
Create adhesive vinyl output at up to 310 ft2 per hourB
Fully loaded print solution including an ONYX GamaPrint Pro RIP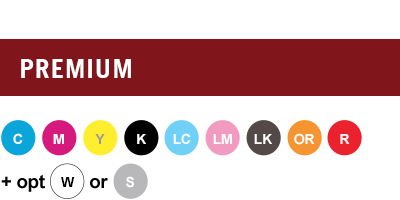 SureColor S80600
$33,795
SRP
64‑Inch roll‑to‑roll printer with included auto take‑up reel
Double-capacity, 9‑colour Epson UltraChrome® GS3 solvent ink
Options for white and metallic inks provide creative flexibility to print on diverse media or create eye‑popping graphics.
Create indoor quality adhesive vinyl output at up to 195 ft2 per hourB.
Fully loaded print solution including an ONYX GamaPrint Pro RIP
Explore Other Printers in the SureColor S-Series Family.
* Price is MSRP before any applicable rebates. Reseller prices may vary. All prices are in U.S. Dollars.
A Results based on Epson and Avery internal lamination testing at six hours after printing. Your results may vary based on environmental conditions, media type used, ink density, and other factors. For warranty information, please refer directly to the media and laminate manufacturer websites.
B Print times are based upon print engine speeds only. Total throughput depends upon front-end driver/RIP, file size, printing resolution, ink coverage, network speed, etc.
Thank you for your interest in Epson. To subscribe and receive promotional emails, please visit Epson Global to find your local site.